I've been struggling a little with the idea of finding my blogging voice, but instead of forcing it, Im trying to let it naturally unfold.
One thing I've realized, is that as much as I love fitness, and food, and "healthy living," that is not my whole life, and therefore should not be my whole blog.   So today I want to chat about some things that have been rolling around in my head.
YOLO, aka, You Only Live Once.  As made popular by Drake, and has become a motto for young people.
Fun song and everything, and I'm all about hip-hop music (I did choreograph hip-hop dance in college, so I can appreciate it for what it's worth), you know if you completely avoid listening to the often degrading and concerning lyrics. But, boy, do these guys do know how to party.
The problem though, in my opinion, is the young generation of people who not only embody "YOLO" as a life style, and really a means to be promiscous and drink (illegally) and to the point of schwasty face.  Or duck face.  Never a cute face.  The word itself makes me cringe.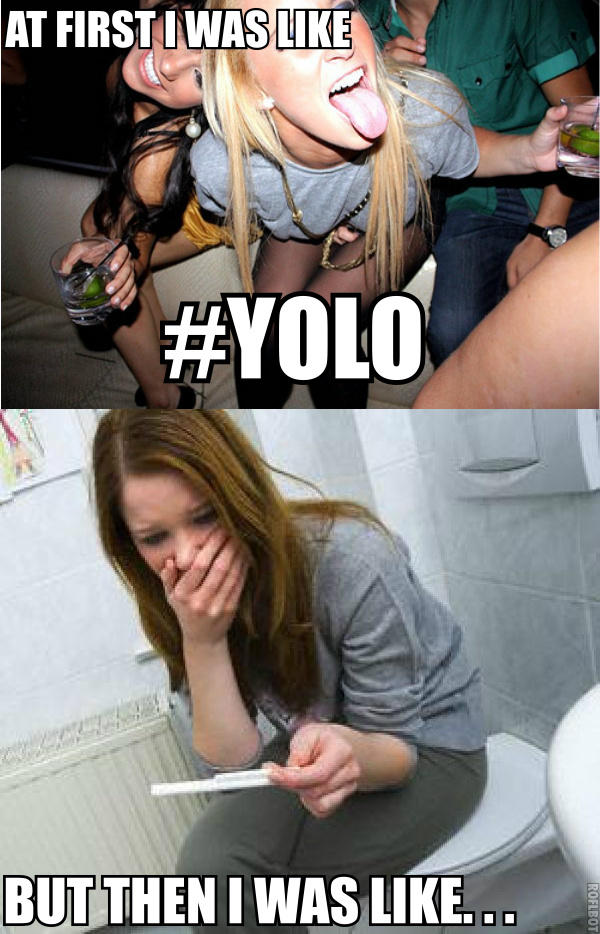 Girls in particular, are not only putting themselves in dangerous situations, but they also neglect to consider the longterm effects of YOLOing.  Decision making skills haven't peaked yet in your teens, or even your early 20s (I can vouch for that), and add social media to the mix, and you are asking for trouble.  What these kids don't realize is how their actions are going to effect their future ambitions, and probably not in a positive way.
I also see some people living in regret, hanging on to the past, and reminiscing about the good old days, like those were the best they'll ever have. And that just makes me sad.
Now, before you rule me out as old and boring, I'm far from it.  I still go out, I have a good time, I'm nowhere near ready to have a baby.  But I also am all for making decisions now that will benefit me in the future.  At work, at the gym, at the grocery store, on the internet.
On my body.  Like, the young women who get sleeve tattoos, or even just a few.  Sometimes I think, if done well, that style looks super badass and cool.  But 20 years from now?  Not so much.  50?  Definitely not. (No offense, this is what I tell myself everytime I get bored and I consider a tattoo.  I change my mind wayy too much for something that permanent.)
Instead, I wish women would translate YOLO, even literally, to mean you have one life to live, make the most of it, take calculated risks, push yourself, challenge yourself, be better, do better, and make yourself future proud.
Sometimes I like to think, would I make my mom proud right now? (She passed when I was young.)  And I think I do.  Despite making some mistakes along the way, my integrity has remained in tact, and those mistakes were opportunities to learn.
Well, maybe I'm getting old.  Or growing up.  But what's so wrong with that?  I've been discussing moving in with my boyfriend, and while I've been considering buying  a house, we need a place in the mean time.  He would prefer to live downtown, or at least close to the city, and I prefer to live in the 'burbs.  I've done the downtown thing.  Close to the nightlife scene.  I'm over that.  (To be honest, I often went out with the hopes of meeting someone like him, like many girls do, and that didn't happen in a bar.  Well, it did, but that's another story.)
I had my fun, and now I prefer to spend my nights snoozling.  I don't need to go out every night, or every weekend.  I want safety, and maybe eventually a good school district for my children.  Who am I?
I guess I just know now more about who I am, and what I want.  I'm not trying to be someone else anymore.  I did that.  For too long.  I tried to be perfect.  Someone else's perfect.  I wasn't happy.  I just want to be the best version of me.  And who I am now is just fine.
Anyway, I digress.  I'll get off my soapbox.
But if I'm on the lookout for my voice, I guess I found it today.
Thanks for listening. Xo, C.
What are your thoughts on the YOLO "movement"?  
P.S., to see some awesome people doing great things, head on over to  A Dash of Meg for High Five Friday.  Thanks to Meg for hosting!  Happy Friday