It's that time again.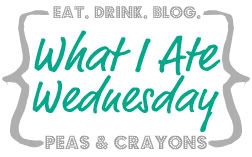 Lately I've been all about fast, simple dinners, so pinterest, the grill and the crockpot have been my new besties.
Aloha Chicken burgers inspired by Tidy Mom.  Swiss, BBQ, bacon, grilled pineapple and romaine rounded out that delicious sandwich.
The easiest pulled pork in the world.
Taco Tuesday.  Nothing new, but still delicious as always.
Chicken and beer?
And smoked Goulda? Oh my! Chicken cheesesteaks from How Sweet It Is.
Blueberry pie.  Just because.
#Stepfordwife
Phishfood brownies with marshmallow, salted caramel, and chocolate chunks.
Grilled steak and beans and zucchini cooked in bacon.  #carnivores
And the most important meal of the day.  Brunch.
But I had to save the best for last.  I put my spin on Britney's breakfast for dinner.  Egg scramble with bacon, onion, green pepper, zucchini, red skinned potato, snap peas, garlic, topped with TJ's guac and avocado, and a dash of siracha, with some ketchup on the side. OMG.  I die.
And if you want to see more of my foodporn (yup, I said it) on the reg, follow me on Instagram.
XO,C.
What's the best thing you ate lately?
Do you use a crockpot?  Any good recipes?
Bake or cook?